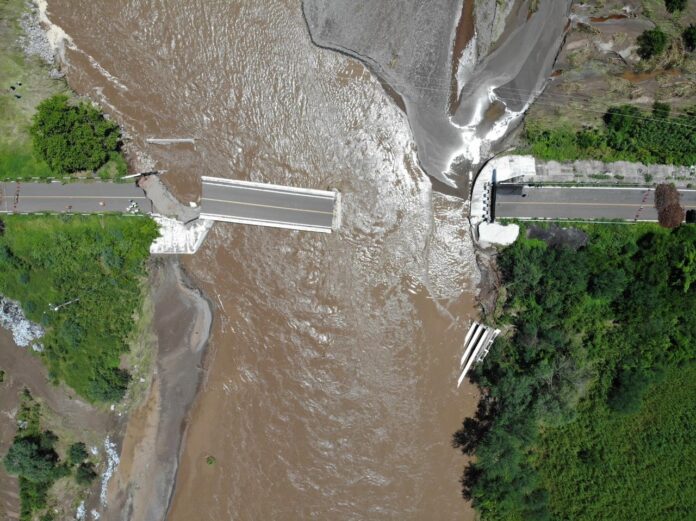 The federal agency reports damage to the road infrastructure in Sinaloa and several states of the country
Mexico. – Faced with the damage to the road infrastructure generated by the rains left by "Nora" in Sinaloa and other states of the country, the Ministry of Communications and Transportation mobilized almost 1,100 people, vehicles and heavy machinery to address the effects and restore as soon as possible the affected communication channels.
The federal agency indicated that through the SCT Centers it comprehensively attends to the effects caused by the Tropical Cyclone "Nora", on routes 15, 37, 40, 98, 134, and 200 in the states of Colima, Durango, Guerrero, Jalisco, Michoacán, Nayarit and Sinaloa.
Among the incidents that have occurred, the landslides, landslides, water strains on the bearing surface, road cuts due to culvert failure and damage to three bridges stand out.
In the state of Michoacán, scour damage was recorded in the central pier of the "Los Cuates II" bridge and in the access embankments to the "Las Juntas" bridge, both on Route 37 in Michoacán.
On the other hand, in the north of the country, there was the collapse of three clearings of the "El Quelite" bridge, on Route 15 Mexico – Nogales, Mazatlán – Culiacán highway in Sinaloa.
So far there are seven points with traffic interruptions, of which it is expected that in three of them circulation will be restored when the water depth on the road allows it. In four places there will be deviations to carry out the reconstruction of the roads, the bridges already mentioned stand out.
In the presence of the tropical cyclone, the SCT deployed 225 engineers and technicians, both from the agency itself and from contractors, 851 workers from Routine Conservation crews, 118 vehicles and 390 heavy machinery equipment, including backhoes, motor graders, front loaders and trucks.
This staff and team have been mobilized to immediately attend to the points where the damages have occurred, with the purpose of restoring vehicular circulation and providing safety to users.
In the same way, technical personnel of the SCT continues to make tours to detect all the effects caused by the heavy rains that have not stopped in the country.