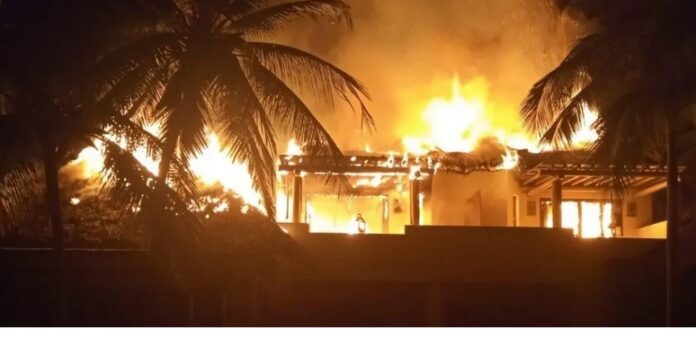 Punta de Mita, Nayarit.- A strong fire registered on Tuesday, June 15th in the exclusive tourist area of ​​Punta de Mita, Nayarit consumed 80 percent of the hotel complex called "Los Ranchos", located near the limits with the state of Jalisco.
Previously, it had been reported that the incident was registered in the Villas Four Seasons "Nuevo Vallarta" hotel chain, however, the Nayarit corporations that came to put out the fire have declared that such information is erroneous.
Civil Protection staff and Firefighters of the Bahía de Banderas municipality declared that the fire occurred around 10:15 p.m. on Tuesday at Ranch 14, particularly in the "Casa Aramara", which is located at kilometer 17.5 of the Punta de Mita highway.
After the warning alarms were turned on, the staff of the "Los Ranchos" hotel complex issued a call for help among the 22 guests who were at that time staying in rooms of the compound, who were evacuated to a safe area.
Employees of the hotel complex issued calls for help to the Civil Protection and Fire Department corporations since the fire was spreading at high speed due to the flammability of the material with which some parts of the hotel were built.
Officials from the Civil Protection and Firefighters of Bahía de Banderas came to the place and the support of the agents of the Puerto Vallarta Regional Command of Civil Protection and Firefighters of the state of Jalisco was requested since the hotel is located very close to the state line between Nayarit and Jalisco.
Finally, the Firefighters and Civil Protection service was declared closed until 04:58 hours this Wednesday and it was reported that because the fire consumed 80% of the hotel complex it was necessary to relocate the 22 guests in the W Hotel, which is located a few kilometers from Rancho 14 and the "Casa Aramara".
Source: Debate