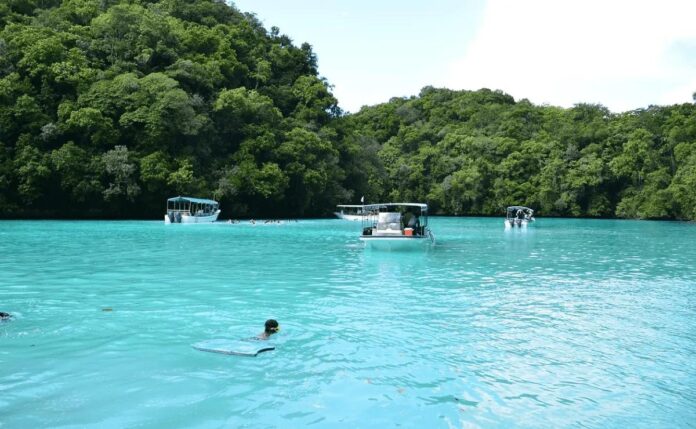 The state of Nayarit is known for its impressive landscapes and natural wonders that captivate tourists from all over the world. From the charming town of Sayulita to the quiet beauty of Lo de Marcos, Nayarit offers a wide variety of tourist destinations.
Among all these hidden gems, Playa Litibu stands out as one of the most beautiful and best-preserved beaches in the region. Located just 50 minutes from the Puerto Vallarta International Airport, Litibu is a magical place that will immerse you in nature and give you an unforgettable experience.
Although Nayarit has numerous beach destinations that invite you to enjoy the sun and the sea, Playa Litibu stands out for its exuberant natural beauty and its virgin beach. Surrounded by hills and mountains, this hidden gem is kept in an almost virgin state, which makes it a haven for nature lovers and those looking to escape the tourist bustle.
Once you arrive at Playa Litibu, you will be greeted by a stunning strip of golden sand that stretches along the shoreline. The deep blue waters invite you to take a refreshing swim, and surf lovers will find ideal waves to practice this exciting sport. The beach is wide enough to find a quiet place and enjoy the scenery without crowds.
In addition to its natural wonders, Playa Litibu is also close to other tourist attractions. Just a few kilometers away is Punta de Mita, a destination famous for its luxurious resorts, golf courses, and water activities. Here, visitors can enjoy a busier getaway while also returning to the serenity of Litibu when they want to get away from the hustle and bustle.
How to get there from Nuevo Vallarta and Puerto Vallarta
While Sayulita and Lo de Marcos are amazing places, Litibu offers a unique experience by providing a combination of tranquility and natural splendor that is hard to match. Now, those who wish to visit this hidden paradise will wonder how to get there from the most popular tourist spots in the region, such as Nuevo Vallarta and Puerto Vallarta.
The good news is that getting to Playa Litibu is not complicated and the trip itself is a memorable experience. For those who are in Nuevo Vallarta, the beach is only a 30-minute drive away. The journey will take you through impressive landscapes, bordering the Pacific Ocean and passing through picturesque Mexican towns.
If you are in Puerto Vallarta, the drive to Playa Litibu will be a little longer, approximately 50 minutes by car. However, every minute of the tour is worth it, as it will provide you with panoramic views of the coast and mountains that will take your breath away. Also, the path is well signposted, making it easy to navigate even for those unfamiliar with the area.
Playa Litibu is a hidden treasure in the state of Nayarit that deserves to be discovered and appreciated in all its natural glory. Its proximity to both Nuevo Vallarta and Puerto Vallarta makes it an accessible destination for those seeking an unspoilt paradise away from the crowds.
The combination of its natural beauty, the conservation of the environment and the proximity to other tourist destinations make it an unbeatable option for those seeking a unique and enriching experience during their vacations in Nayarit.
  Source: Soy Nomada