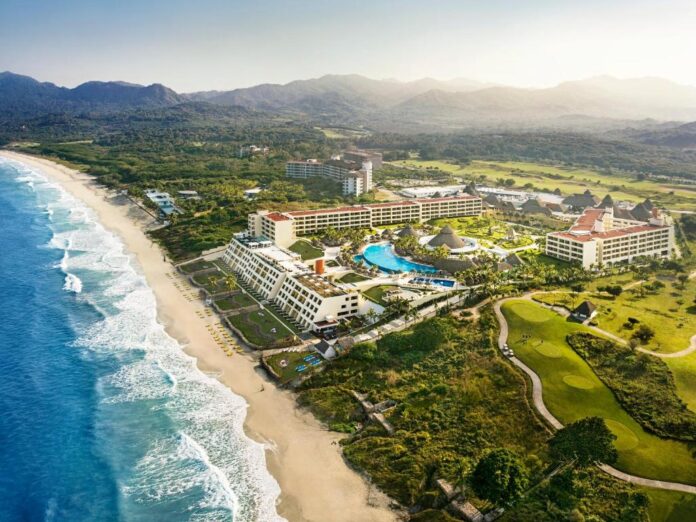 Iberostar Selection Playa Mita, a 451-room, all-inclusive resort, in a gated community, that opened in 2013 – was Iberostar's first property in the Riviera Nayarit region – in lush Punta Mita.
Take a closer look at this family-friendly resort, which has spacious suites, a sprawling pool (and splash zone for kids), personalized service, and French, Teppanyaki, steak, and Mexican specialty restaurants that look, taste, and feel, well, like real restaurants.
Iberostar Selection Playa Mita is a relaxing, nature-hugged property. (Pax Global Media)
---
To the casual eye, this hilly, nature-hugged compound – built on a cliff, with its own lagoon – checks a lot of boxes.
It has those essentials that make vacationers coo – starting with a superb beachfront. The breezy shoreline, with brown sugar-like sand and roaring Pacific waves – a natural soundtrack – is the stuff long walks on the beach are made of.
Situated at a lower elevation, down from the hotel's main grounds, the beach invites guests on a relaxing stroll towards not-so-far mountains (Monkey Mountain) where land, ocean, and sky meet.
Iberostar Selection Playa Mita's breezy beach. (Pax Global Media)
---
There are no looky-loos on this idyllic stretch: Iberostar Selection Playa Mita has no intimate neighbors, with the exception of an 18-hole golf course and, soon, an adults-only Iberostar Grand, which is in the early stages of construction.
And so, from the resort's ocean-facing spaces on the "Cora" building's rooftop – a sunset bar, terrace (for outdoor events), and Star Prestige section (for VIPs) – you're guaranteed unobstructed views of Nayarit's wish-you-were-here coastline.
At the right hour, it's Sunset Central.
Ocean views from the property's rooftop spaces. (Pax Global Media)
---
Meanwhile, the talk of the resort is the crispy fish tacos served at El Toston, a lunchtime snack bar, and grill (where grab-and-go tostadas and ceviche are also dished), next to the beach.
Like a Lay's potato chip, you can't just eat one of these Baja-style beauties, folded in shredded cabbage and creamy sauce. Here, fish tacos are consumed by the plateful.
Mouthwatering fish tacos are served at El Toston. (Pax Global Media)
---
It's the simple things that make vacations great. But there's more to this near-decade-old resort than sand, sea, and taco.
With a commitment to involve Nayarit's Indigenous roots, and evolve with changing tastes, Iberostar Selection Playa Mita is breaking away from its own brand conventions with experimental (and exciting) ideas.
And it's changing the way Iberostar operates in Mexico.
Click here to read the complete original article on Pax Global Media
Source: Pax Global Media