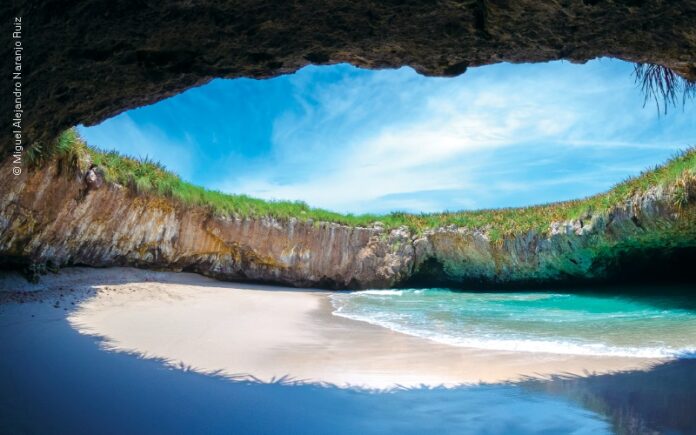 Hidden Beach is one of the most famous places to visit in Mexico. Located in the Marieta Islands on the pacific coast, this famous attraction is visited on boat tours from Puerto Vallarta, Sayulita, or San Pancho.
Some of the highlights are exploring different caverns and archways by kayak or paddleboard and seeing fish, turtles, and other sea life while snorkeling! You'll also stop at Majahuitas Beach, which is very secluded and tranquil.
If you can, try to book the tour that guarantees a visit to Hidden Beach. This is by far the highlight, but not every tour to the Marietas Islands visits Hidden Beach with the new restrictions. Even tours that advertise a visit to Hidden Beach don't always get to see the beach.
The specific tour actually visits Hidden Beach (from Puerto Vallarta) and includes snacks, water, and an English-speaking guide. Although there are cheaper options, these DO NOT GUARANTEE a visit to Hidden Beach. 
With information from Destination travel