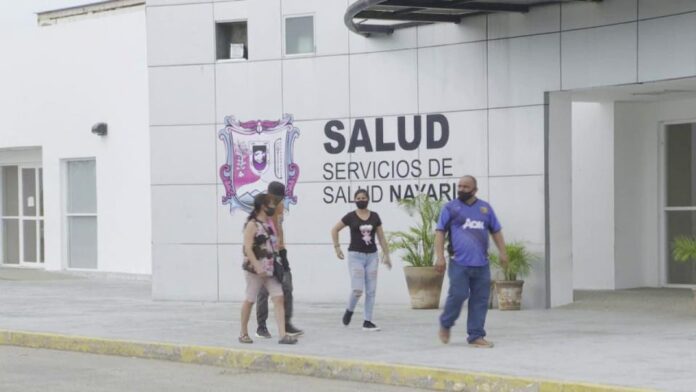 Bahía de Banderas, Compostela, and Puerto Vallarta are at 100% in occupancy of COVID beds in hospitals, said the elected municipal president Mirtha Villalvazo, after listening to the current mayor Jaime Cuevas Tello, who reported the statistics in the hospitals and detailed the work undertaken to cope with the pandemic, including the closure of economic activities for several months.
At the meeting held in the Riviera Nayarit by the current and acting mayors of both suburban municipalities.
"We have 150 beds in the municipality in Hospital 33 of the IMSS, which 145 are occupied,  of these only 66 have a ventilator, they are at 100%. At the San Pancho Hospital we only have 4 COVID beds with ventilators, which are also occupied, "said Dr. Cuevas.
The Mayor of Bahia highlighted the importance of taking care of yourself:
"We all have to do our part; The use of face masks must be mandatory at all times in closed places, not events where more than 50 people are concentrated, if it is in open places, much better but these types of activities are suspended ".
Visibly concerned, the president-elect of the Nayarit municipality urged the population to abide by all health protocols, as she highlighted that they have fallen short in the numbers of infected and dead, she even shared that when her phone rings, they are generally citizens desperate to find oxygen, ambulance or hospital bed.
"But today we see that the reports that President Jaime Cuevas just gave us, that maybe he fell short of the deaths we have. We have the beds, not just from Bahía de Banderas, but from the neighboring town of Compostela at the top, the neighboring town of Puerto Vallarta at the top ", he said.
Mayor elect of Bahia stressed:
"Asking the public not to leave everything to us. There is no budget that can be reached so that President Jaime Cuevas sees fit every day every day, as his servant, like Puerto Vallarta, like Professor Michel, every time the phone rings, it is nothing more than: we occupy oxygen, we occupy a bed with a ventilator, we occupy an ambulance ".
She reiterated the call to public awareness so that the family takes care of themselves, as well as in the transfer to their jobs, without lowering their guard in the use of face masks, healthy distance, constant hand washing, which he recognized has gotten tired, but it is vital.
Source: tribunadelabahia.com.mx