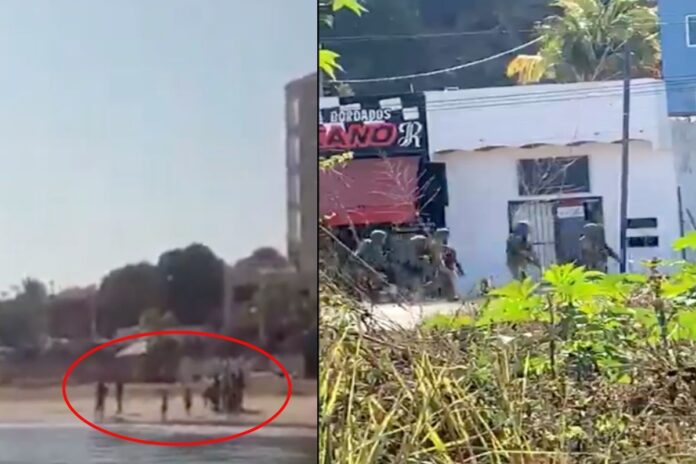 Users on social networks reported an armed confrontation in the famous bay
Tourists on the ground, hotels closed. It is 10:00 am on Saturday, March 20, and in the tourist area of Rincón de Guayabitos, Nayarit, submachine guns are thundering. The lack of control that the country is experiencing rose a step this morning when users on social networks reported an armed confrontation in the famous bay.
The information so far available is through local media, who say it was a clash between elements of the National Guard and cartel hitmen.
The gunmen's direct attack on the security forces would have occurred during a routine operation, in which elements of the National Guard marked the stop of vans with suspicious passengers. The criminals then opened fire on the agents.
Another version warns that the attack has to do with the attack on an Army command, who is unknown if he was injured or lost his life. So far, no authority has ruled on the matter.
The call of the authorities is not to go to the town of Compostela, where security operations are being held. Four alleged criminals were injured as a result of the events.
In Nayarit, the drug known as crystal has become a focal point for the Jalisco Nueva Generación Cartel.
With homicides and disappearances, the criminal organization has begun to mark its passage through the state. The main objective would be to seize the territories that belonged to Juan Francisco Patron, also known as H2, who was killed by the Mexican Navy in 2017.
According to reports, the Jalisco cartel people have begun to exterminate their competition in the sale of crystal in the state, where this is the dominant drug.
The cartel would have intensified the murders and disappearances with the intention of intimidating their adversaries and obtaining information on how they operate in the town, especially against Los H, an armed wing of the Beltrán Leyva.
Rincón de Guayabitos (Photo: Facebook / Rincón de Guayabitos)
Journalists Guillermo Rivera and Adrián Tinoco also revealed that the Jalisco drug traffickers are going against independent vendors, known in the entity as chapulines, consumers, and people related to this type of activity in the area.
The geographical position of Nayarit has made it an essential step in drug trafficking, especially since it is located between Jalisco and Sinaloa, where they are two of the most important drug trafficking groups in recent decades.
According to the authorities' calculations, some 60,000 doses of meth circulate in the entity every 72 hours, mainly in the capital, Compostela and Bahía de Banderas.
Source: jornada.com.mx, infobae.com, tribunadelabahia.com.mx