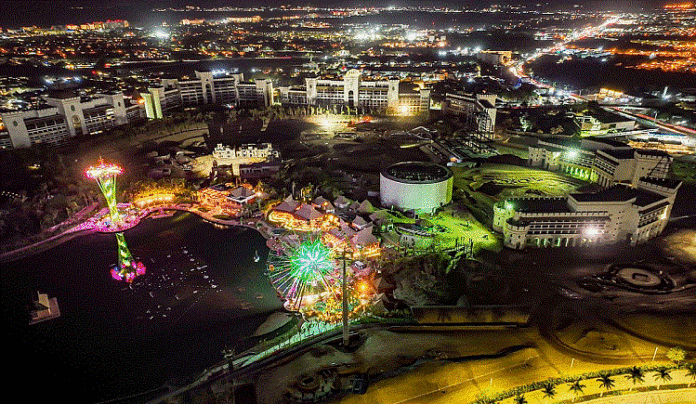 – It has been a long time in the making, and it has undergone several iterations of reimagining but, based on the latest images leaked on YouTube by amusement park fans, it seems like considerable progress is being made at the Vidanta World theme park in Nuevo Nayarit (formerly known as Nuevo Vallarta).
In one of its latest advances, several roller coasters have arrived and are beginning to be installed as part of the attractions at the immersive theme park, which appears to be the one that they are currently concentrating on.
The immersive theme park will have at least three roller coasters, some of them designed by the Dutch company Vekoma, one of the best coaster manufacturers in the world and which has placed this type of attraction in more than 380 theme parks on the planet, some among the busiest.
Vekoma Rides will bring to Vidanta World roller coasters that promise to be world-renowned, as they feature inverted spins with passengers hanging upside down and more surprises yet to be seen until the rides have been completely assembled.
The immersive theme park will also feature a parachute-type attraction that takes passengers to the top of a tower and lowers them back to earth in a controlled drop, a giant Ferris wheel with gondolas that slide along rails like a roller coaster, and dancing fountains with lights in the middle of a lagoon – all of which have been completed.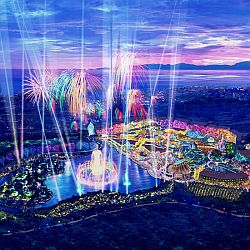 While the original vision of a park with an entire Cirque du Soleil theme did not come to fruition, they have also finished building a huge stadium where a permanent Cirque dinner theater, similar to the one that houses Joyá at their Riviera Maya resort, can be enjoyed.
However, Vidanta World will also feature a water theme park, where you can dive into a thrilling oasis filled with the world's best water attractions, and a nature theme park, where you can explore a rainbow-colored world of wild enchantment next to the Ameca River.
SkyDream Parks Gondola, an aerial gondola that will eventually transport guests from the neighboring Vidanta Nuevo Vallarta resort to all of the dream parks, has already been constructed and is now operating. SkyDream runs a loop of 4 miles and soars over 150 feet high.
Likewise, Vidanta guests are already enjoying a show of lights, fire, fountains, and music in another open stadium full of plants and trees, as part of the immersive experience.
There are still many attractions to come, however, the advances in the entire infrastructure are very noticeable, with the huge castle-shaped hotels already surrounding the complex like a wall.
The official launch date of Vidanta World has yet to be announced, but it appears that the first phase will be opening soon. The tourism development company Grupo Vidanta was founded in 1974 by Daniel Chavez Moran, who is investing more than 1.4 billion dollars to build the amusement parks at the Nuevo Nayarit resort.
To see the latest advancements (as of April 2023), check out this video by CoasterWorldMX on YouTube. The reporter speaks Spanish, but you can use the platform's Close Captioning (CC) and Subtitle settings to read the transcript in English.
Source.- Grupo Vidanta
The Nayarit Post