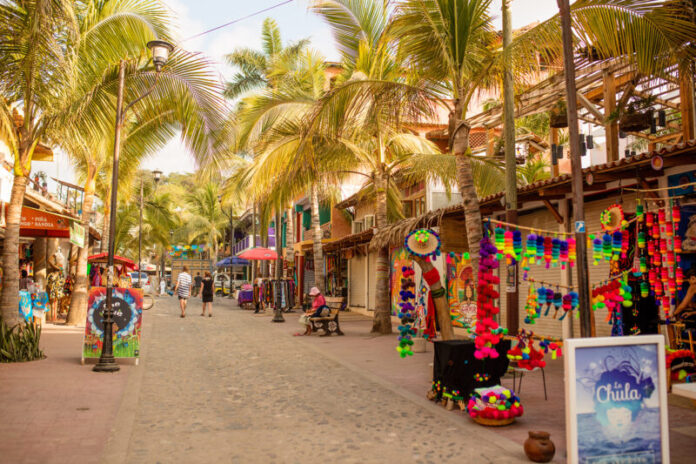 Featuring outstanding surf, local seafood, wondrous wellness, and vibrant wildlife — not to mention luxury resorts — this Pacific Coast destination is endless summer embodied.
If you can't point out Riviera Nayarit on a map, you're not alone. It's nothing to be embarrassed about, but it's definitely something worth remedying. Still, there's a decent chance you've already seen a photo captured from here — likely of the Islas Marietas' Playa Escondida (Hidden Beach), also known as Playa de Amor (Love Beach). The aerial images are the stuff of dreams (and Instagram influencer fodder): a utopian round of sand and aquamarine water found inside the crater of a protected island reached only by swimming through a volcanic rock arch at low tide during an official tour.
Add a stream of humpbacks (and their babies) throughout the winter as well as impressive diving and those islands make a compelling argument for aficionados of tropical adventures. But there are at least 23 other reasons the region is worth exploring, and that's not even including its burgeoning collection of luxury resorts and real estate or epic winter surf. The idyllic, beach-fringed coastline of the Mexican state of Nayarit — where the Sierra Madre Occidental mountains dip their toes into the Pacific Ocean — encompasses 23 coastal towns that are essentially micro destinations. And quite affordable ones at that, populated by generous, spirited people who are very encouraging of anyone practicing their Spanish.
Boho surf bastion Sayulita — with its Pueblo Mágico (Magic Town) designation — is arguably the most famous, but there's a beachy fishing village in that string of sand-swept pearls to charm almost anyone. There's also Boca de Chila, a mangrove area teeming with aquatic birds and surfers along its five-mile beach, plus a nearby town with ancient rock engravings. And Chacala, the tiny, photogenic town whose name means "where the shrimp are" in Nahuatl. Lo de Marcos, meanwhile, is an unassuming paradise with a Saturday market plus horseback riding on the sand, paddleboarding, and kayaking…
Click here to read the complete article on T+L