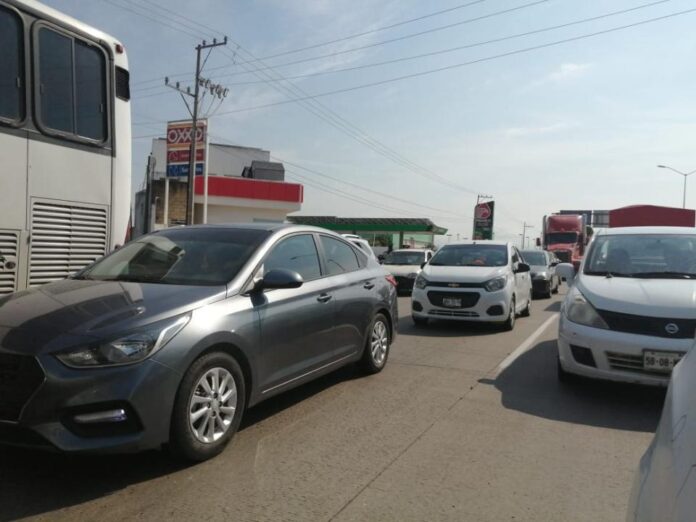 Time ran out for the municipality of Bahía de Banderas where the only avenue, the Riviera Nayarit, was completely overwhelmed by intense vehicular traffic.
Every day after 10 in the morning it becomes a real parking lot, a hell from which no one can escape since there are no alternate streets or avenues to be able to seek to get out and move on.
It seems that we forget at times that at one time this was a federal highway that over time the urban area was eating it up until it became the main avenue.
Unfortunately, it is no longer enough; the traffic is intense and this avenue becomes a large parking lot for hours.
Until now, no authority has been concerned with finding a way to move forward through other alternatives, other ways. This has just become normal for every day of the week and there is no need to change anything.
This is how the years and administrations have passed, and so far no plan has been presented to finally finish the federation avenue or Amado Nervo, as at some point a governor said it would be called.
The bridge that everyone talks about, the bridge over the Ameca River or the Federations Bridge simply does not appear on any political agenda, nothing has happened so far.
Things get even more complicated during the holiday season: tourists who escape to their places of origin find themselves in this terrible situation.
There was a time when from the Ameca bridge to the exit or to the Cruz de Huanacaxtle vehicular bridge it did not take more than 30 minutes or 20 minutes; now up to an hour or more if it goes well.
Who knows if politicians or rulers have left their offices to realize this situation experienced by citizens and freight drivers who are passing through and who use this avenue to move from one side of the federal highway to the other. 200.
Source: tribunadelabahia.com.mx