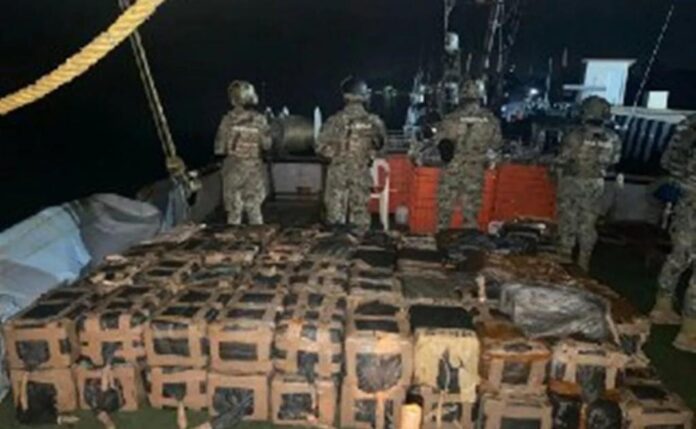 Elements of the Mexican Navy arrested seven people last Tuesday who were transporting more than a ton and a half of alleged cocaine on a fishing vessel that was sailing south of Islas Marías, Nayarit.
The vessel called "Jorge M. II" had hidden in its compartment 80 packages containing in their interior products with characteristics similar to those of cocaine, with an approximate weight of 1,583.87 kilograms, the Secretary of the Navy reported.
Operational personnel of the Fourth Naval Zone and the Naval Sector of Islas Marías, aboard two vessels, intercepted the fishing vessel during maritime surveillance work, and at the time of being inspected they detected various administrative anomalies, related to its machinery and personal identifications of their crew.
The ship was taken to Puerto Balleto, on María Madre Island, for a more detailed inspection, derived from which, through canine binomials, the shipment of alleged cocaine was located.
Given this, Semar reported that the fishing vessel was taken to the port of San Blas, Nayarit, where personnel from the Sixth Naval Zone made available to the alleged offenders of the law, to whom the Human Rights Booklet was read. .
The illicit cargo and the boat were placed at the disposal of the Attorney General's Office (FGR) in Tepic, Nayarit, to carry out the pertinent tests, determine the ministerial weight and integrate the corresponding investigation folder.
Source: tribunadelabahia.com.mx