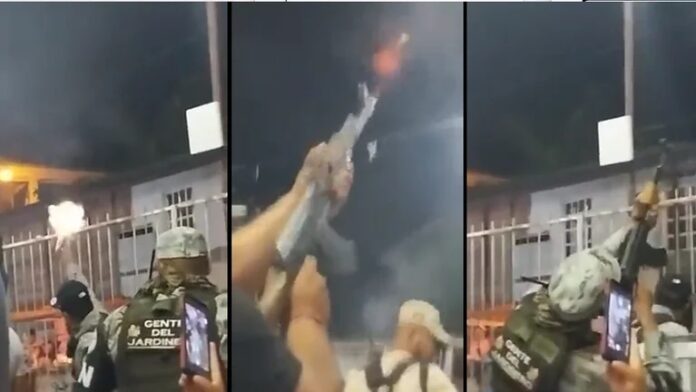 Men dressed in military clothing carried out the detonations without any authority appearing
A group of armed people, who would be alleged hitmen of El Jardinero, identified as the head of the Jalisco Nueva Generación Cartel (CJNG), fired their weapons in the middle of the street with total impunity, it was a burst of bullets by men dressed in military type.
Among the intense detonations it was possible to see that one of those involved was wearing a vest with the words "Gente del Jardinero (Gardener People)", this person was carrying and used a long weapon. Another of the individuals used a short weapon to fire the shots directed towards the sky.
During the recording shared on Tuesday, April 4, it was possible to see that the alleged hitmen were pointing towards the sky and the first reports indicated that the actions took place in Nayarit, a region in which the so-called cartel of the four letters has a presence.
Some of those present during the detonations were recording the events on video. At one point, a man in a black shirt, who is not fully featured in the shot, used his long gun to fire a constant series of shots that lasted several seconds.
The recording is only 30 seconds long. From the surrounding light, it can be seen that the events occurred at night and, to date, the specific date on which the shooting occurred has not been specified.
Who is "El Jardinero"
According to journalistic reports, Audias Flores Silva is the man who goes by the alias El Jardinero and is considered one of the main drug production and distribution, extortion and kidnapping operators in the municipalities of San Pedro Lagunillas, Ahuacatlán, Acaponeta, Ixtlán del Río, Amatlán de las Cañas and Jala. Likewise, he also operates in El Arenal, Magdalena Tequila, Amatitán, San Marcos Etzatlán and Hostotipaquillo.
For the year 2021, the Office of Foreign Assets Control (OFAC), of the United States Department of the Treasury, reported that El Jardinero is an individual who controls a criminal cell of the CJNG on the Pacific coast.
Source: Infobae