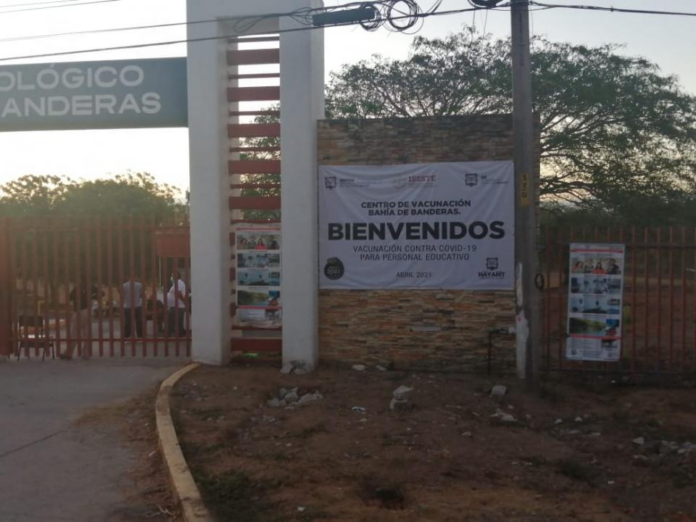 The second day of vaccination for teachers concludes with the application of just over 4,200 doses.   
With order and a good response, the teachers from Bahía de Banderas came to get vaccinated on the second vaccination day, at the Bahía de Bahía de Banderas Technological Institute.
On this occasion, the demand was not as high as last Tuesday, where from very early, there were already more than 200 people trained, today no more than 70 80 people were waiting their turn.
Although there were many doubts about who should and who should not be vaccinated, it was clarified that all and all those workers who are linked to the Public Education sector, can do it, including music teachers and people in charge of maintenance.
All of them have the right to be vaccinated on this day, we must mention that today they vaccinated all those teachers who started their last name with I, and will end at 4:45 in the afternoon with the letter Z.
We must mention that the vaccines arrived at a very good time minutes before 8 in the morning, therefore the vaccination began as scheduled at exactly 8 o'clock.
It should be noted that the staff in charge of coordinating this vaccination day for teachers was very satisfied with the response of the teachers, who came in good numbers and in great order to make this day a success.
It was also said that many teachers had already been vaccinated, these are teachers of the third age older than 60 years who took advantage of the vaccination carried out just three weeks ago.
We must emphasize that although there was not much confidence in vaccination, by means of the first letters of the surname it was confirmed that this system does work.
This vaccination day is expected to culminate and culminated minutes after 5 in the afternoon.
Source: tribunadelabahia.com.mx